The Noetic Master Model is a highly-extensible Hybrid Form, Entity Relationship data model that handles all of the requirements for global investment activities. It is designed to be installed on cloud services and traditional data management infrastructures.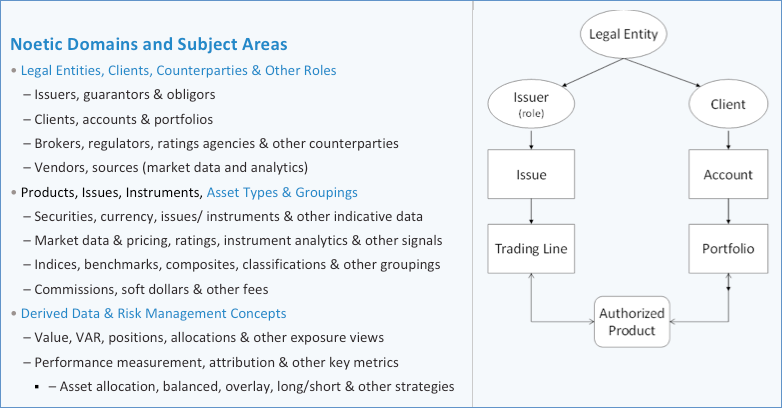 The Noetic Master Model can be extended without loss of fidelity or integrity of current and historical data or downstream breakage of interfaces, feeds and reporting systems. It supports all current industry standards, including standards ISO 20022, ISO 10382, ISO 10962, ISO 3166-1, ISO 4217, ISO 639-2/T, FIXML, FPML and XBRL.
The Noetic Model's Capabilities

The Noetic Master Model supports fundamental and quantitative financial research, complex transaction processing, high frequency trading, post-trade processing activities, and investment management requirements for asset and wealth managers, with richness of information captured and depth of history stored to support reporting and analytics. It is designed to manage market and reference data from Bloomberg, Thomson Reuters, Telekurs, IDC, ratings agencies including Moodys, Fitch and S&P, global and regional exchanges and other trading places, price vendors, and other common sources. Noetic natively supports global, multi-currency clients, accounts and products, FATCA, Dodd Frank, and Basel I, II and III requirements.

The Noetic model is designed to provide highly exposed and controlled configuration parameters, rules and automated policy management to support complex trade execution and related functions – without the use of hard-coded rules or constraints. It supports the real-time addition of new clients and mandates, new products and investment strategies, and new markets, including all of the related reference and market data, and also including new or expanded sources and mappings, and is the foundation for a cross-market, global order book.
Licensing and Implementation
Noetic Models, including Logical ER and Physical DDL, include Reference and Master Databases for Products and Parties, the Noetic Operational Data Store, and the Noetic Data Warehouse. Each model can be customized and implemented in production cloud-based systems such as Amazon AWS and WindowsAzure, in weeks or months rather than years. Licensing is available for small, medium and large organizations. Training, customization and implementation services can be provided as needed.